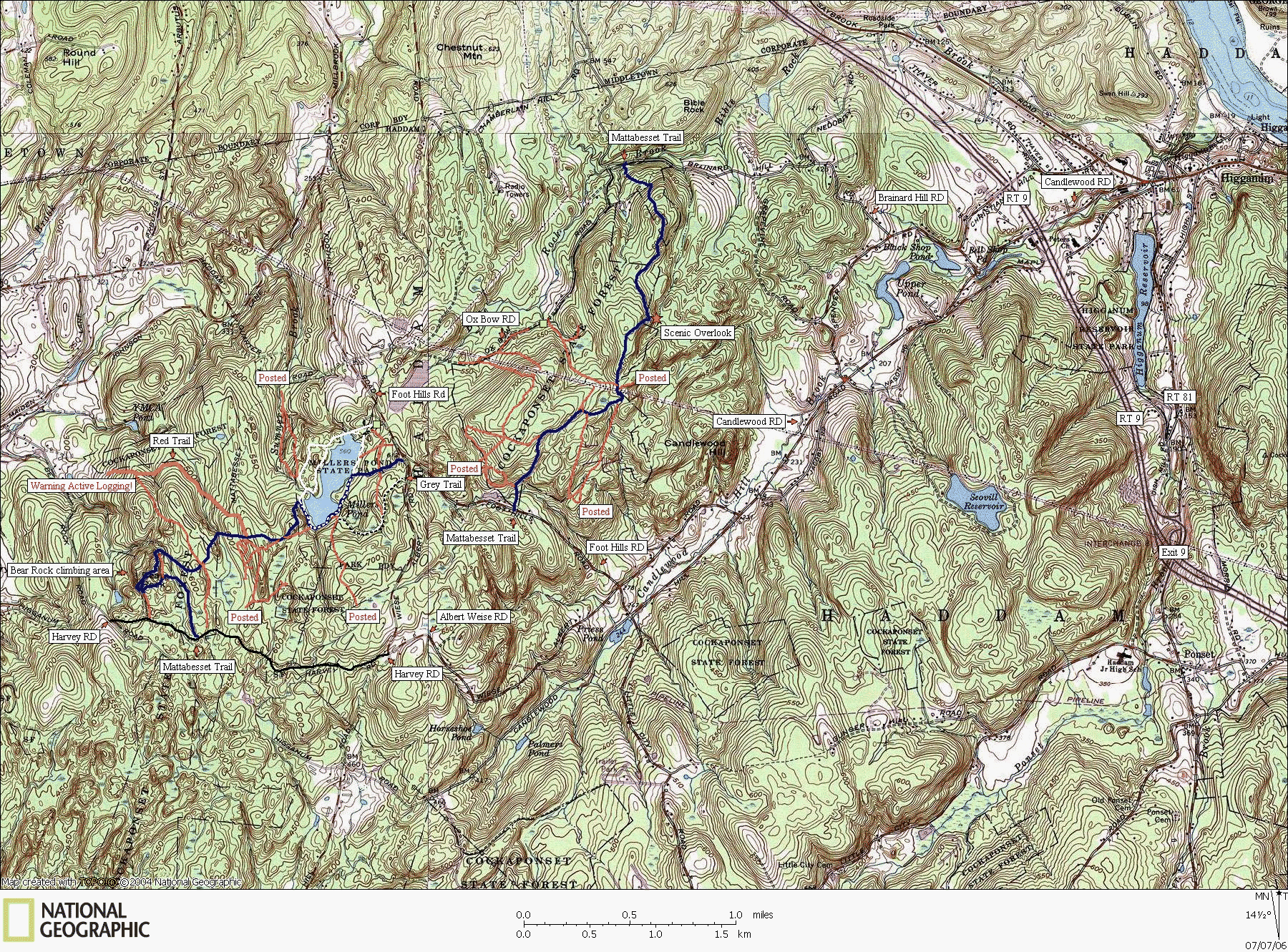 Cockaponset State Forest
Millers Pond Area
Ratings Explained: The ratings are based on mountain biking difficulty and may also translate to hiking and horseback riding difficulty in most cases. The ratings do not take into consideration how steep and strenuous the trails may be, only the difficulty of the traveling surface; 0 rated trails are smooth and easily traveled, X rated trails are on the lower end of technical difficulty with a few rocks and roots to maneuver around, XX rated trails are quite difficult requiring at least intermediate level skills to maneuver around very rocky and root infested sections with possible off canter balancing, and XXX rated trails are extremely difficult trails that are impossible for most mountain bikers excluding a few master riders.
The thin red trails represent unmarked trails while the thick red trails represent trails with a red blaze. All other colored trails represent the color of the blaze.
The Millers Pond area lacks restroom facilities during non-summer months. The only parking available is at the northeast corner of the park. A recent nuisance are the no parking signs along every backroad and pull-off. Some of the Mattabesset trailheads are now worth a $75 fine. We can thank the local landowners for, according to a park ranger, "wanting to keep out the Riff-Raff." It would be a better idea to designate more small parking areas that are legal to avoid on street parking VS blanketing the area with fines. Some trails are now out of access to less abled hikers.
Trail Descriptions
West Foot Hills RD Trails:
White Trail: From the parking area, the trail begins as a 0 rated access road and traveles around the lake in a counterclockwise fashion. The 0 rated road ends at a foot bridge along the west side of the lake. An off-shoot of the white trail follows along the west bank of the lake and is rated XX with XXX areas. The main white trail continues around the entire lake and is rated X with a few XX spots.
Northwest Unmarked Trail: This is an X rated trail with a few XX areas. This trail has been maintained as a mountain bike route with specially designed XX and XXX rated trail stunts built alongside.
All Other Unmarked Trails: X rated with a few XX locations.
Northeast Unmarked Trails: X rated with multiple XX and XXX rated trail stunts. Maintained as a mountain biking route.
Red Trail: X rated.
Grey Trail: X rated.
Mattabesset Trail (Blue): Part of the blue-blazed trail system. This is a hiking only trail.
East Foot Hills RD Trails:
Unmarked Trails: Most unmarked trails are X rated with a few XX locations and can be accessed via hiking the Mattabesset Trail or via Ox Bow RD.
www.nationalgeographic.com/topo
Map created with TOPO! copyright 2006 National Geographic
Trail data created by CTXGuide.Com copyright 2006