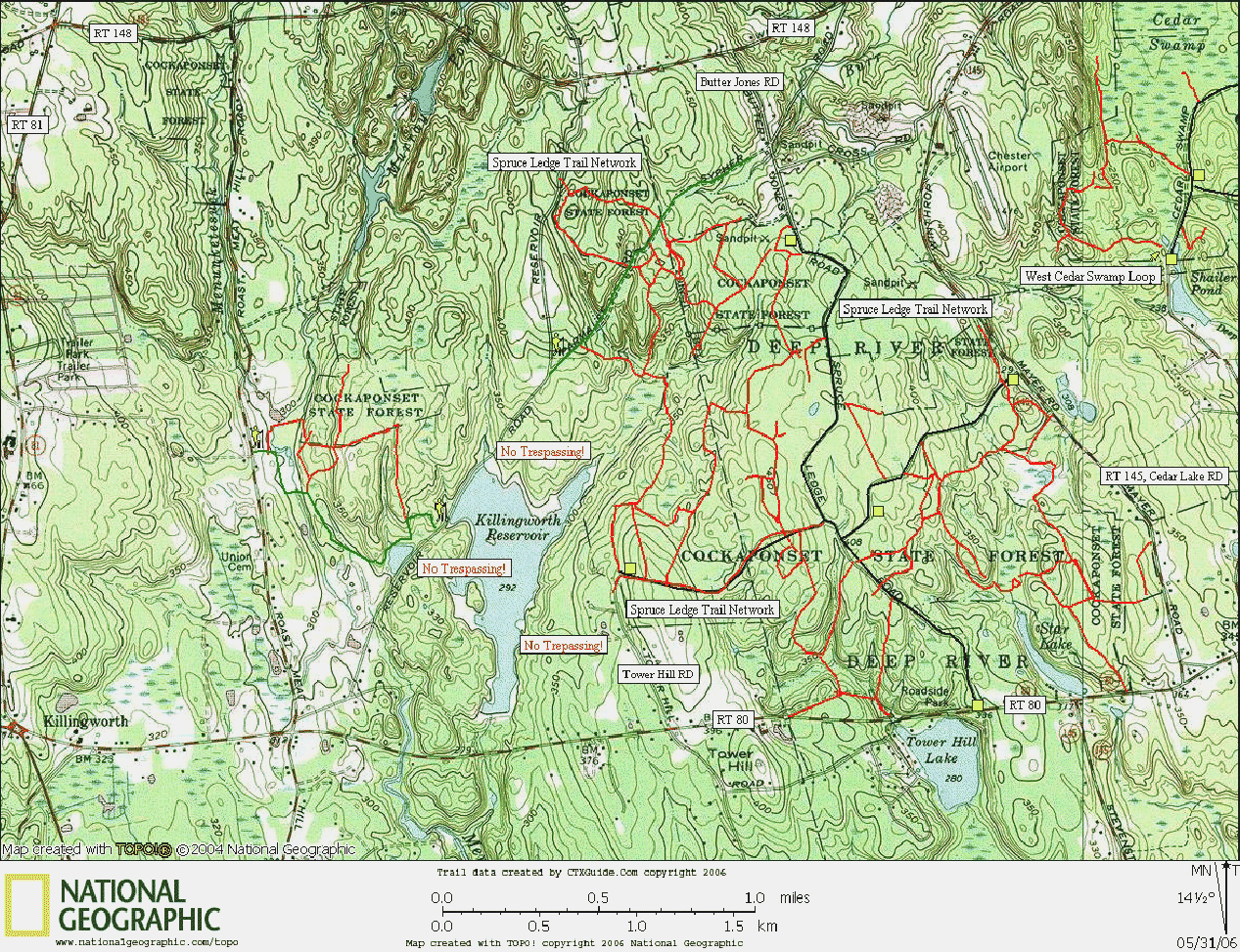 Spruce Ledge Section
Ratings Explained: The ratings are based on mountain biking difficulty and may also translate to hiking and horseback riding difficulty in most cases. The ratings do not take into consideration how steep and strenuous the trails may be, only the difficulty of the traveling surface; 0 rated trails are smooth and easily traveled, X rated trails are on the lower end of technical difficulty with a few rocks and roots to maneuver around, XX rated trails are quite difficult requiring at least intermediate level skills to maneuver around very rocky and root infested sections with possible off canter balancing, and XXX rated trails are extremely difficult trails that are impossible for most mountain bikers excluding a few master riders.
The thin red trails represent unmarked trails while the thick red trails represent trails with a red blaze. All other colored trails represent the color of the blaze.
This could be the best mountain biking location in the State and it is already a very popular horseback riding area. The Spruce Ledge section is not too terribley scenic, but the trails are fast and smooth without too many steep ups and downs. The area north-northeast of Killingworth Reservoire has super-tight singletrack with quick turns through dense forests. Much of the remander of the trails are wide singletrack or fast doubletrack. There are no restrooms at this area.
Trail Descriptions
The area is described as a trail network and not a trail-by-trail description. As mentioned above, this is a fantastic area to mountain bike for all levels. There may not be another location in the State better suited to please all rider levels. With it's fast packed trails and easy rolling hills, beginners can develop better riding skills while having the time of their lives. Expert riders may not find very difficult technical challenges, but with a little bit of speed, these trails can turn up the fun! Horses and hikers have the right-of-way, so ride responsibly.