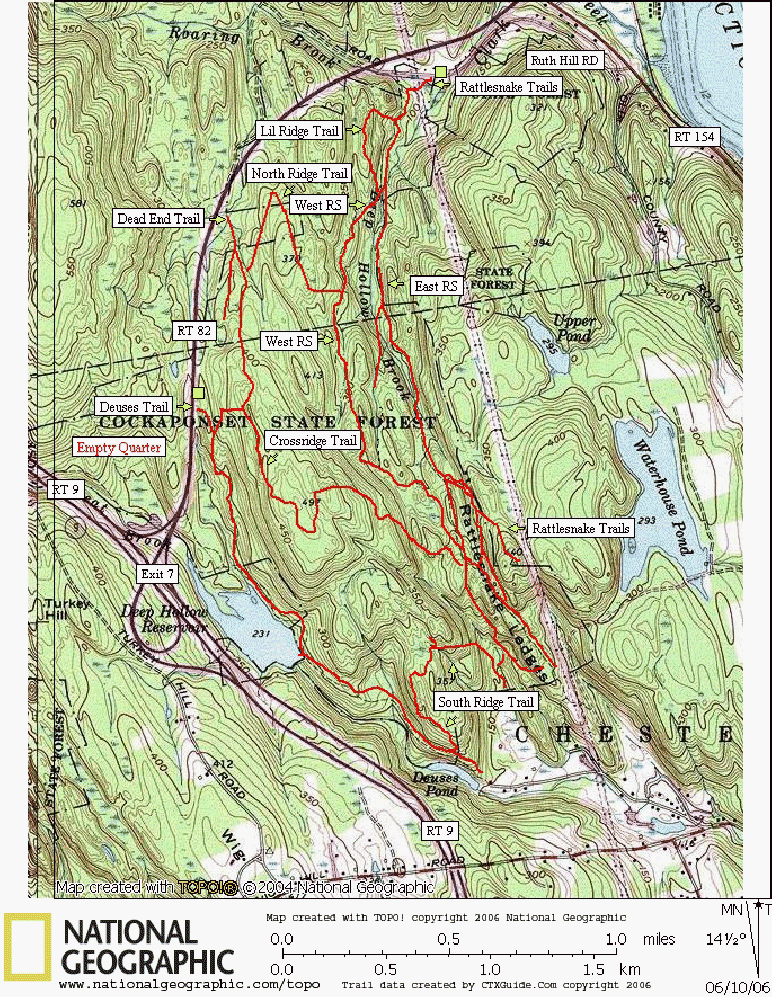 Rattlesnake Section
Ratings Explained: The ratings are based on mountain biking difficulty and may also translate to hiking and horseback riding difficulty in most cases. The ratings do not take into consideration how steep and strenuous the trails may be, only the difficulty of the traveling surface; 0 rated trails are smooth and easily traveled, X rated trails are on the lower end of technical difficulty with a few rocks and roots to maneuver around, XX rated trails are quite difficult requiring at least intermediate level skills to maneuver around very rocky and root infested sections with possible off canter balancing, and XXX rated trails are extremely difficult trails that are impossible for most mountain bikers excluding a few master riders.
This is the most remote and wild of all of the Cockaponset State Forest property and the least visited. The east side of the main ridge has some dark hemlock forests still hanging on. There is a patch of old growth hemlocks along the north end that are immense. The main ridge and parts of the Rattlesnake Ledges are covered in a thick forest of mountain laurel. There are steep ledges and rock outcroppings throughout the area and the beautiful Deep Hollow Reservoir highlights the western flank. There are no restrooms at this area.
Trail Descriptions
The thin red trails represent unmarked trails while the thick red trails represent trails with a red blaze. All other colored trails represent the color of the blaze.
North Ridge Trail: X rated singletrack, but it becomes difficult to see near the Dead End Trail.
Crossridge Trail: Mostly X rated with a few XX spots. There is a steep XXX ravine at the eastern base of the main ridge.
South Ridge Trail: XX rated singletrack with a XXX hill at it's western terminous.
Lil Ridge Trail: X rated singletrack through dense mountain laurel. The south end of the trail is unable to be seen from the West RS Trail.
West RS Trail: Mostly dry X rated doubletrack.
East RS Trail: XX rated for many log crossings and mud bogs.
Rattlesnake Trails: Fast dry double and singletrack that is X rated. There are some possible dangerous XXX free-ride lines along the Rattlesnake Ledges.
Deuses Trail: Fast X rated trail with a few XX log crossings and trail ruts.