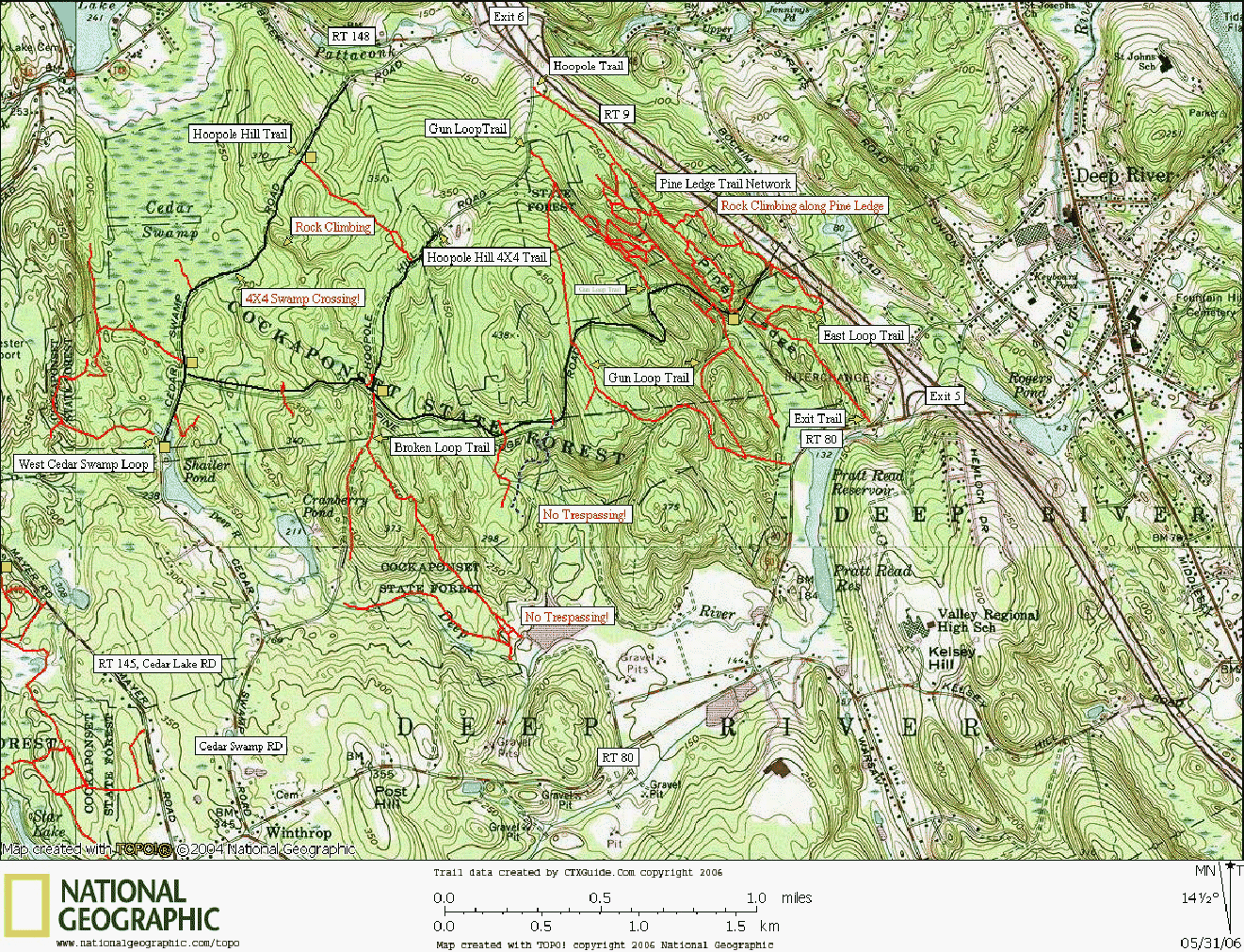 Pine Ledge Section
Ratings Explained: The ratings are based on mountain biking difficulty and may also translate to hiking and horseback riding difficulty in most cases. The ratings do not take into consideration how steep and strenuous the trails may be, only the difficulty of the traveling surface; 0 rated trails are smooth and easily traveled, X rated trails are on the lower end of technical difficulty with a few rocks and roots to maneuver around, XX rated trails are quite difficult requiring at least intermediate level skills to maneuver around very rocky and root infested sections with possible off canter balancing, and XXX rated trails are extremely difficult trails that are impossible for most mountain bikers excluding a few master riders.
This is an area without many people mostly because of the rugged access road. Low clearance vehicles should avoid this area and only those driving 4X4's should attempt crossing Cedar Swamp. 4X4 off roading is one of the favorite recreational sports in this area, but rock climbing and exploring the surreal Cedar Swamp are also enjoyed. There are no restrooms at this area.
Trail Descriptions
The thin red trails represent unmarked trails while the thick red trails represent trails with a red blaze. All other colored trails represent the color of the blaze.
Hoopole Hill Trail: X rated singletrack. Appears to have been originally cut by a dirt-bike.
Pine Ledge Trail Network: These trails pass through the most scenic terrain. Mostly X rated double and singletrack with a few XX and XXX sections. Beware of the ledge-top trail along a dangerous 50 ft cliff! There are dense mountain laurel forests along the ledge outcropping providing excellent habbitat for residing bobcats.
East Loop Trail: X rated double and singletrack.
Exit Trail: Fast and X rated.
Gun Loop Trail: This unmarked loop has fast X rated doubletrack with a few XX sections along the south end.
Broken Loop Trail: This would be the perfect downhill mountain biker's loop if it wasn't for a strip of private land breaking the trail. X rated with a few XX obstacles and XXX following the banks of the Deep River. Avoid the temptation to ride along the gravel road at the trail's southeastern end (No trespassing).
West Cedar Swamp Loop: Mostly fast X rated double track.