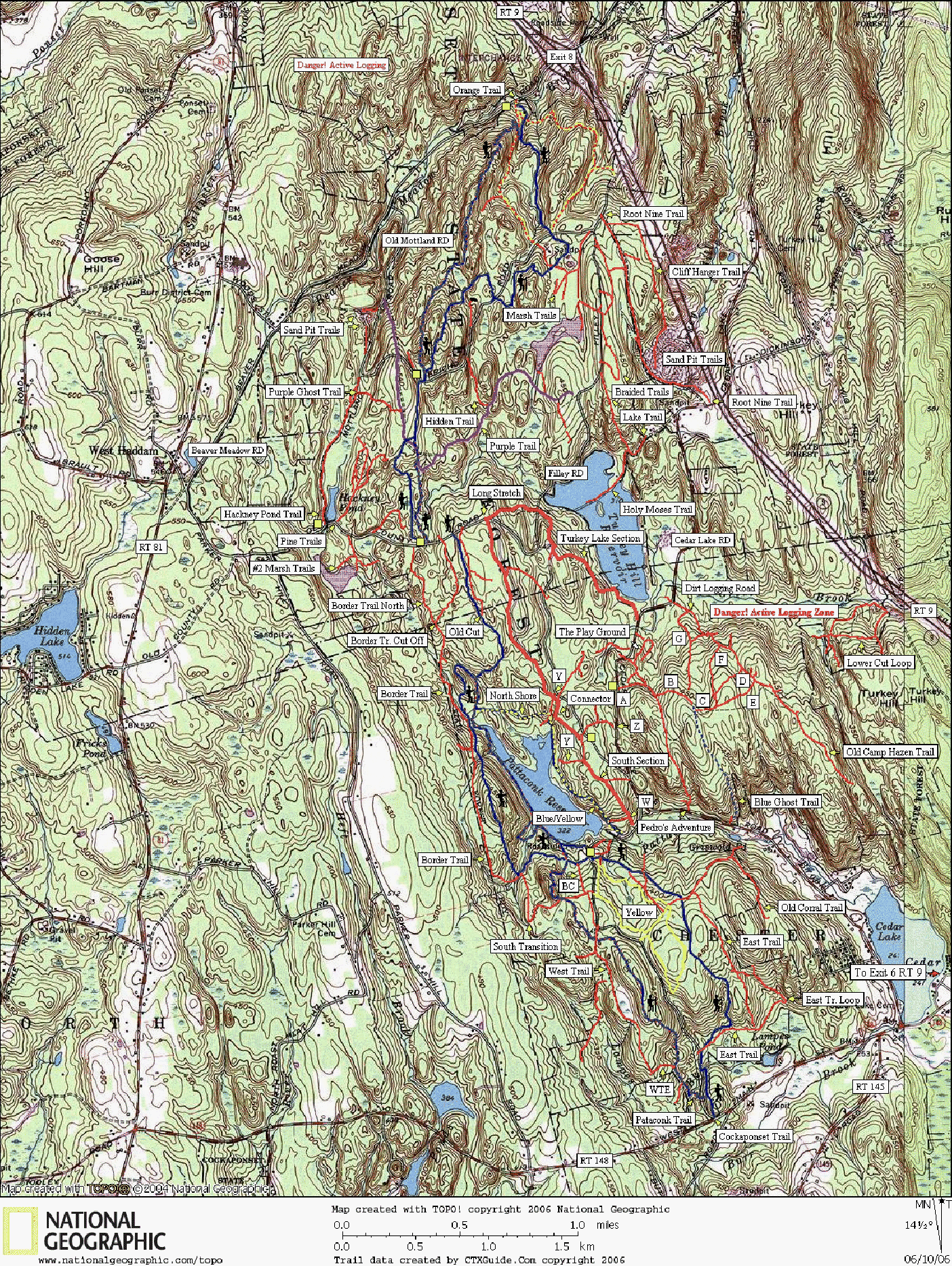 Pattaconk Section
Trail Descriptions
Pattaconk Trail and Cockaponset Trail (both blue blazed): Hiking only with rock outcroppings and becoming much more rugged toward the north.
The Pattaconk section is fairly scenic along Pattaconk Lake and becomes remote and more rugged toward the north. During summer months, the lake recreation area can become crowded with picnics. There are usually outhouses near the Pattaconk Recreation Area parking lot just south of the lake.
Yellow Trail: Technical singletrack with an X rating and a XX rating throughout the south loop.
Ratings Explained: The ratings are based on mountain biking difficulty and may also translate to hiking and horseback riding difficulty in most cases. The ratings do not take into consideration how steep and strenuous the trails may be, only the difficulty of the traveling surface; 0 rated trails are smooth and easily traveled, X rated trails are on the lower end of technical difficulty with a few rocks and roots to maneuver around, XX rated trails are quite difficult requiring at least intermediate level skills to maneuver around very rocky and root infested sections with possible off canter balancing, and XXX rated trails are extremely difficult trails that are impossible for most mountain bikers excluding a few master riders.
Blue/Yellow Trail (North Shore): The North Shore section is X rated singletrack with one mud hole to be aware of and the remainder of the trail along the east side of the lake is XX rated through tight tunnels of mountain laurel and over difficult rocks and roots. There is a short and steep downhill with an X rating at it's southern terminous.
The thin red trails represent unmarked trails while the thick red trails represent trails with a red blaze. All other colored trails represent the color of the blaze.
Border Trail: A tight XX rated singletrack trail with a few XXX stream-crossings. The North section is a roller-coaster X rating while the Cut-off section is fast X rated doubletrack. The South transition is a wide X rated trail with a XX log crossing. The North Transition is tight XX rated singletrack.
Red Trail: The Turkey Lake section has quick steep hills with an X rating and a few XX spots. The Long Stretch is fast doubletrack with an X rating. The Connector has fast quick hills and turns - X rated. The South section is a XX rated hill that makes for a tremendously fun downhill for experienced riders. The W cut-off is X rated singletrack while the Z trail connector is fast rolling X rated singletrack. Short-cut Trail - 0 rated.
Purple Trail: The northwest section has a lung-bursting X rated hill; the south west section is fast X rated; the entire east section is XX singletrack with multiple log crossings over hilly terrain. Purple Ghost - overgrown X rated.
Orange Trail: Fast X rated with a few XX areas, a bit overused by dirt-bikes.
West Trail: Dirt forest service road 0 rated. At West Trail's end, the difficult to see WTE trail head east - tight X rated singletrack.
Dirt Logging Road: Fast steep utility road rated 0; Old Camp Hazen Trail - X rated; A - 0 rated; B-steep X rated doubletrack; C - X rated singletrack through forest meadow; D - X rated doubletrack; E mostly abandoned x rated traile littered with limbs; F - 0 rated doubletrack; G - X rated doubletrack. Pedro's Adventure is a wide X rated singletrack. Blue Ghost is an abandoned Boy Scout trail that became overgrown and littered with fallen logs with a XXX rating.
Old Cut: Starts off as an old road and then turns into a 0 rated doubletrack.
Y (Youth Camp Access Roads): 0 rated. Leads to the Youth Camp areas.
Old Corral Trail: Narrow 0 rated doubletrack. Dead-ends at private property.
East Trail: Marked with a difficult to see small rock cairn along Old Corral Trail. Somewhat abandoned, but still very ridable. Fast X rated singletrack with XX log crossings. The East Loop Trail is very faded and difficult to see limiting ridability.
P1, P2, and BC: X rated connectors.
Hackney Pond Trail: Fast X rated doubletrack.
Marsh Trails: 0 rated and X rated trails.
Sand Pit Trails: stunt riding through sand pit.
Lake Trail: Steep technical X rated; Holy Moses - surreal ride through tunnels of vegetation across lake with a few XX and XXX hole crossings - dead ends at water's edge (may be crossable in summer).
Lower Cut Loop: X rated with a few XX log crossings.
The Braided Trails: Network of 0 rated trails, most do not leave the sight of the road.
Root Nine Trail: 0 rated access road; Cliff-Hanger Trail - rated X trail.
Pine Trails: A series of X rated dead-end trails littered with sticks and limbs. The eastern branch connected to the blue trail after a short hike over a rocky ridge.
#2 Marsh Trails: 0 rated access road to Marsh #2. The west singletrack dead-ends at the lake. The east singletrack dead-ends at a small tributary to Pattaconk Stream.