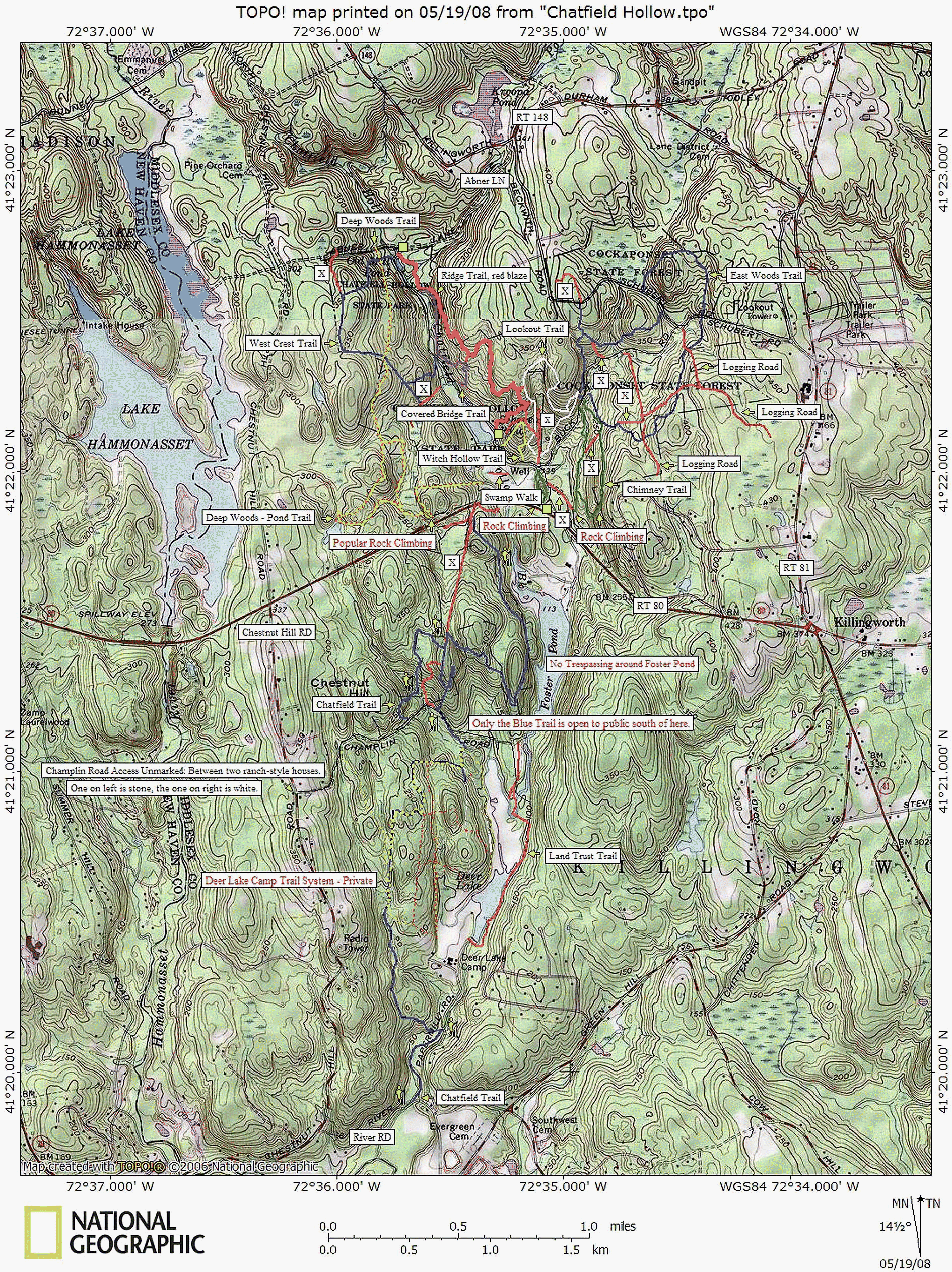 Chatfield Hollow State Park Section
Ratings Explained: The ratings are based on mountain biking difficulty and may also translate to hiking and horseback riding difficulty in most cases. The ratings do not take into consideration how steep and strenuous the trails may be, only the difficulty of the traveling surface; 0 rated trails are smooth and easily traveled, X rated trails are on the lower end of technical difficulty with a few rocks and roots to maneuver around, XX rated trails are quite difficult requiring at least intermediate level skills to maneuver around very rocky and root infested sections with possible off canter balancing, and XXX rated trails are extremely difficult trails that are impossible for most mountain bikers excluding a few master riders.
The terrain around Chatfield Hollow State Park is very scenic with many streams and rock outcroppings. There are several possible rock climbing locations with one area rumored to be the best climbing area in Connecticut. The picnic areas can become crowded in summer months, but many of the outlying trails remain fairly empty. There are both restrooms and outhouses throughout the park.
Trail Descriptions
The thin red trails represent unmarked trails while the thick red trails represent trails with a red blaze. All other colored trails represent the color of the blaze.
Eastwoods Trail (Blue): Mostly X rated deep woods singletrack with a few XX areas such as the XX segment along the north end of the eastern section just before crossing the dirt road. There is a XXX spot at the midway point of the western end.
Lookout Trail (White): XX rated deep woods singletrack with frequent XXX obstacles.
X Trail (X): Most of these old cross-country ski trails are marked with an X. These trails are X rated with a few XX areas.
Logging Roads: There are no blazes marking these X rated doubletrack trails.
Witch Hollow Trail (Yellow): This is a nature trail that has extremely tight singletrack with a XX rating and a few XXX spots.
Ridge Trail (Red): XX deep woods singletrack with a few XXX spots.
Covered Bridge Trail (Purple): Mostly rated XX with a few areas bordering XXX.
Chimney Trail (Green): The extremely rugged west loop just north of the parking lot is all XXX and above! This is also a location for some rock climbing. Thankfully, most of the remainder of the trail is rated X with just a few XX obstacles.
Deep Woods Trail (Orange): XX rating for many log crossings and difficult rock gardens. Beware of an extremely dangerous and unbikable cliff-side trail along a 50 ft high ledge! There are frequently climbing ropes rigged across the cliff-top trail providing many oportunities to trip, but avoid stepping on climbing ropes - could be hazardous to climbers. There is also a short XXX section at the south east terminous.
West Crest Trail (Blue): Rated X singletrack with a few XX log crossings and a XXX spot at the southeast end.
Swamp Walk: 0 rated boardwalk through a surreal swamp.
Buck, Schubert, and Abner Roads: 0 rating dirt roads.
Chatfield Hollow Trail (Blue): A part fo the Connecticut Blue-Blazed trail network. Hiking only with a few rigged locations.
When hiking the Chatfield Hollow Trail, beware of intersecting trails south of Champlin Road. These side trails are private and owned by Deer Lake Boyscout Camp.